Neuraspace partners with Elecnor Deimos for enhanced Space Debris Tracking

Neuraspace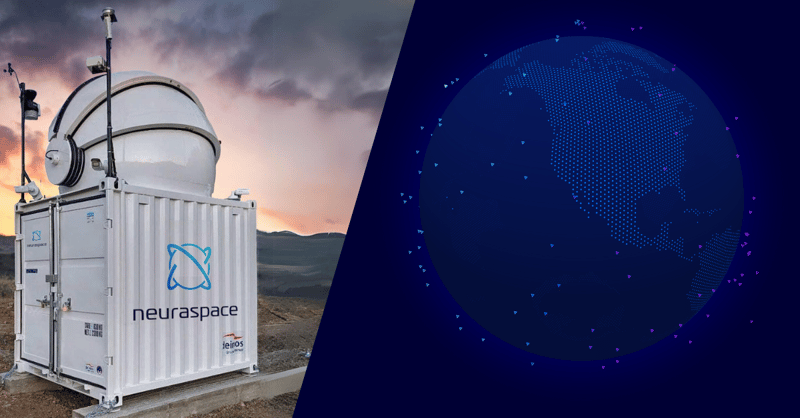 Neuraspace widens its data fusion scope by incorporating data from one of Elecnor Deimos' telescopes for achieving better accuracy and tracking.
Coimbra, Portugal, 13 November 2023 – Neuraspace, a leading provider of smarter space traffic management (STM), has partnered with Elecnor Deimos, a renowned provider of Space Surveillance and Awareness solutions to improve debris tracking.
Obtaining critical data from Deimos, this strategic partnership aims to enhance Neuraspace's space observation capabilities, adding to its data fusion model to collect data from varied sources. As a result, Neuraspace can provide more accurate analysis to its customers, thereby contributing to the continued safety and security of their space assets.
This will keep adding benefits to customers, such as 100x faster decision-making, 80% reduction in manual operations, 20% more planning time, optimised spacecraft/constellation management, longer asset lifespan, increased revenue, improved data analysis with reduced false alerts and elimination of unnecessary manoeuvres.
Being able to pinpoint and increase its debris tracking data also allows Neuraspace to make significant improvements to its collision avoidance guidance and overall space traffic management system based on artificial intelligence (AI) and machine learning (ML).
Over the past few months, Deimos has conducted a successful pilot test with a specific focus on supplying telescope data for low Earth orbit (LEO) objects, using the Antsy2 sensor, one of the four telescopes at the Deimos Sky Survey Centre. The results of this pilot test have laid the foundation for the partnership's activities. They include the provision of optical data from Deimos sensors and the design and deployment of two optical sensors, which will significantly contribute to Neuraspace's mission.
The CEO of Deimos, Ismael López, said: "This venture with Neuraspace aligns perfectly with Deimos' strategy as a premier global provider of space surveillance solutions. Our commitment to sustainable space exploration is reinforced by this collaboration, and we anticipate a successful partnership with Neuraspace."
Chiara Manfletti, Director and COO, Neuraspace, said: "We are thrilled to partner with Deimos. This collaboration will enable Neuraspace to strengthen our space observation capabilities and further our commitment to ensuring the safety and sustainability of space activities. By acquiring optical telescopes and data from Deimos, Neuraspace will complement its current expertise with Deimos' cutting-edge SSA optical telescope technology thereby strengthening space situational awareness and contributing to the security and sustainability of space activities."
"Neuraspace and Deimos have already and will continue to team up whenever the opportunity arises to provide customers - governmental or commercial - with a more extensive network of optical telescopes for data acquisition."
This ongoing collaboration and infrastructure acquirement between Deimos and Neuraspace is done in the context of the project "Neuraspace - AI fights Space Debris", funded by the Portuguese PRR - the Recovery and Resilience Plan and NextGeneration EU Funds.
---
Media contact: media@neuraspace.com
About Neuraspace
Neuraspace is a European-born STM leader, established in 2020, with the goal of combating space debris with Artificial Intelligence by developing an advanced system for monitoring and preventing collisions in space. Neuraspace has raised 2.5 million euros from Armilar Venture Partners and a further 25 million euros for sensor infrastructure and its growth strategy with the support of the Recovery and Resilience Plan and NextGeneration EU Funds. The Neuraspace platform solves the issue of space traffic at large through an end-to-end automated solution.
To know more, visit www.neuraspace.com or check out our LinkedIn.
About Deimos
Elecnor Deimos is a multinational technology company with a presence in five European countries. The company excels in designing systems and cutting-edge technology for a wide range of sectors, encompassing space, transport, aeronautics and maritime industries.
Deimos has a unique capacity in Europe in the field of Space Situational Awareness, being a lead provider of optical SSA systems and services for civil and military uses. This capability stems from its ownership and operation of the Deimos Sky Survey Centre (DESS). Since its establishment in 2001, the company has continuously advanced by developing and incorporating specialized technologies and services, which now seamlessly integrate into a global infrastructure, operations, and services of ESA's Space Situational Awareness program.
To learn more about Elecnor Deimos, visit their website at https://elecnor-deimos.com/.