"AI Fights Space Debris" Project by PRR launches First Event

Neuraspace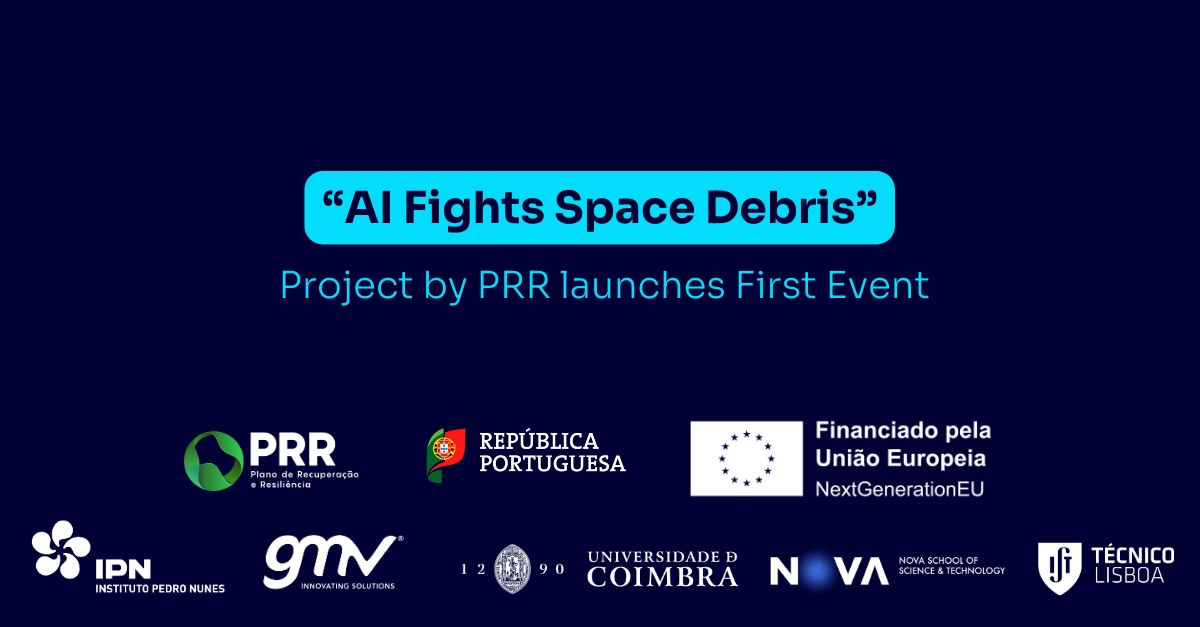 The first project event at Pampilhosa da Serra Council is aimed at the development of low density territories in Coimbra region
The project enhances space access safety and sustainability for satellite operators
Pampilhosa da Serra, Portugal, 27 March 2023 - The project AI Fights Space Debris, C626449889-00463050, is inserted in the Mobilising Agenda/Alliances for re-industrialization financed by the PRR - the Recovery and Resilience Plan / NextGeneration EU Funds programme with a budget of 25M€.
The project aims to support the growth of Neuraspace and its Space Traffic Management Platform, a unique product for satellite operators, powered by Artificial Intelligence and Machine Learning, aimed at performing safe space operations and avoiding collisions with space debris and other satellites.
The Consortium led by Neuraspace and in partnership with GMVIS Skysoft, S.A, Instituto Pedro Nunes Associação para a Inovação e Desenvolvimento em Ciência e Tecnologia, Universidade de Coimbra, Associação do Instituto Superior Técnico para a Investigação e o desenvolvimento and Universidade Nova de Lisboa - Faculdade de Ciências e Tecnologia, will meet in Pampilhosa da Serra to work together on some of the project's innovative outputs.
These working sessions, from 27-30 March, organised with the support of CIM Coimbra and Pampilhosa da Serra council, are part of a joint effort between these entities to promote high-tech jobs in low density areas, and finding new ways to bring startups and technology companies to these regions. This protocol was presented on November 22, where it was announced that the 1st working meeting would occur in Q1 2023. This is a crucial element of the PRR project and one of the project's goals, as CIM Coimbra and Pampilhosa see this project as a key tool for their policy and strategies for low density territories, with the possibility to accommodate its employees who want to work remotely in their incubation and co-work centres, attracting talented workers and their families to these places.
Commenting on the first event, Carlos Cerqueira, Head of Business Development at Neuraspace said, "We want to explore the possibility of positioning our teams currently placed at the large urban centres to low density regions. This benefits us at large, as being in remote / hybrid mode, the teams could make the most from working together in dedicated spaces in attractive regions like Pampilhosa.
He further added, "This could trigger creativity and innovation, and will be beneficial for the regions as well, as it attracts talent to help boost regional development. This pilot program could lead the way for Pampilhosa Municipality to replicate this model of "tech retreat" to other companies."
The products that will be developed during the PRR project duration are focused on building a comprehensive solution to track satellites, detect potential collisions and reduce the space debris by leveraging Artificial Intelligence (AI) and Machine Learning (ML). The project is divided in the following five Products, Processes and Services (PPS):
PPS1: Neuraspace Radar and Events Catalogue to track space objects and keep track of possible near encounters by creating collision data messages (CDM).
PPS2: Neuraspace AI Risk Predictor to receive collision data messages of a client's assets and provides a complete analysis and visualisation of the encounter.
PPS3: Neuraspace AI Risk Mitigator to recommend the best possible manoeuvres by technical and business criteria.
PPS4: Resident Space Objects Visualization Tool User-friendly interface that allows for easy visualisation of the user's asset's orbit as well as future close encounters predicted.
PPS5: Space Traffic Management Body of Knowledge to enable state of the art knowledge is STM through specialised courses, research papers, master thesis, executive training and support to startups.
About Neuraspace
Neuraspace is developing an advanced system for monitoring and preventing collisions in space. Neuraspace has raised 2.5 million euro from Armilar Venture Partners and a further 25 million euro for sensor infrastructure and its growth strategy with the support of the Recovery and Resilience Plan and NextGeneration EU Funds. The Neuraspace platform solves the issue of space traffic at large through an end-to-end automated solution built on three key pillars: data fusion, artificial intelligence and machine learning, and manoeuvring automation. To learn more about us, visit our website or follow us on LinkedIn.
Media Contact: Carlos Cerqueira | info@neuraspace.com