Revolution in Spatial Awareness – Neuraspace and Arcsec Partner to Use Star Trackers for Debris Detection

Neuraspace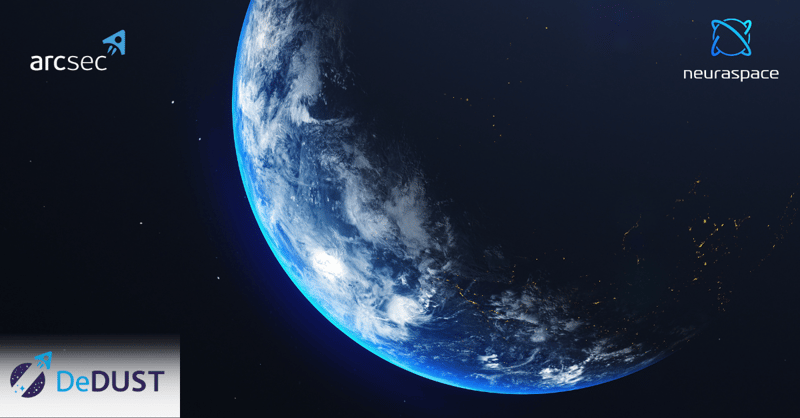 Neuraspace's space traffic management system to become the world's most accurate system for debris detection and collision avoidance.
Coimbra, Portugal, 17 Oct 2023 - Neuraspace, a leading provider of smarter space traffic management (STM), has partnered with Arcsec, a renowned provider of star trackers, for a groundbreaking new way to detect space debris, enabling it to track smaller objects and improve orbit calculations.
Joining their forces, Neuraspace and Arcsec will harness the exceptional precision of Arcsec's space-based star trackers for the detection and characterisation of space debris and resident space objects. It will enable customers of Neuraspace to receive the most detailed information available about potential collision risks in Low Earth Orbit (LEO). As a result, they can better protect their space assets, contribute to the protection of the orbital environment, and avoid costly service interruptions.
As part of the partnership, Neuraspace will use data from Arcsec's star trackers to enhance its STM solution. Processing the data will allow Neuraspace to analyse the movement of and assess the risk posed by even minuscule debris particles down to three centimetres in size. This exceptional precision will turn Neuraspace's STM system based on artificial intelligence (AI) into the world's most accurate system for risk assessment.
Chiara Manfletti, Director and COO of Neuraspace, said: "This strategic partnership with Arcsec marks a giant step towards space sustainability. Using Arcsec's cutting-edge star tracker technology to access in-space data will revolutionise space traffic management and safeguard space assets more effectively. Together, we are advancing the frontiers of space-based debris detection.
"Even a tiny piece of space debris can already pose a significant threat to space missions and assets. With the ability to detect and characterise space debris with unmatched precision, Neuraspace is poised to lead the way in ensuring the safety and long-term viability of space activities."
Tjorven Delabie, CEO of Arcsec, said: "The collaboration between Neuraspace and Arcsec promises to be a game-changer in the field of space traffic management and protection. In our pursuit of advancing space situational awareness and sustainability, we are proud to collaborate with Neuraspace. This partnership exemplifies the synergy between cutting-edge technology and the preservation of the space environment. Together, we are committed to enhancing the safety of space activities and minimising the risks posed by space debris."
Arcsec's star trackers use optical sensors onboard their satellites to determine spacecraft attitude. They have long been recognised for their exceptional precision in detecting stars. The brightness information about space objects from these star trackers also provides crucial insights into the size of detected debris.
Unlike other space-based systems, Arcsec's solution doesn't require dedicated satellites with specialised payloads. Instead, the debris is detected using the same sensor that determines the spacecraft's attitude, ensuring exceptionally accurate debris orbit calculations.
Another feature of Arcsec's star trackers is their reprogrammable capability in orbit. This means that already-launched sensors can be enhanced with space situational awareness (SSA) functionality, and the entire network can be updated while in orbit. This adaptability and versatility are crucial in an ever-evolving space environment.
---
Media contact: media@neuraspace.com
About Neuraspace
Neuraspace is a European-born STM leader, established in 2020, with the goal of combating space debris with Artificial Intelligence by developing an advanced system for monitoring and preventing collisions in space. Neuraspace has raised 2.5 million euros from Armilar Venture Partners and a further 25 million euros for sensor infrastructure and its growth strategy with the support of the Recovery and Resilience Plan and NextGeneration EU Funds. The Neuraspace platform solves the issue of space traffic at large through an end-to-end automated solution.
To know more, visit www.neuraspace.com or check out our LinkedIn.
About Arcsec
Arcsec is a spinoff company of the KU Leuven university in Belgium. arcsec develops high-accuracy attitude determination and control systems for CubeSats and SmallSats. Our product portfolio includes fully autonomous attitude determination and control systems (ADCS), star trackers, and reaction wheels. It is the mission of arcsec to deliver the highest accuracy attitude determination and control systems. For more information, please contact info@arcsecspace.com