We are looking for a Radar Systems Engineer

Neuraspace

Neuraspace is looking for a Radar Systems Engineer to join the team! See all the details below.
About Neuraspace
In 2020 Neuraspace was founded with one purpose: fighting space debris with AI and enabling a safe and autonomous space traffic. Today, just one year and a half later, we are significantly closer to achieving our vision of a vibrant Circular Economy in Space. Our product is an end-to-end automated space traffic management solution built on three key pillars enabling higher accuracy in detecting high-risk collisions and reducing human intervention by up to 75%: Data Fusion; Artificial Intelligence and Machine Learning; and Manoeuvring Automation. Our customers: satellite operators, insurance companies, regulators and policy makers.

Neuraspace is a global startup from day one, headquartered in Coimbra, with offices in Lisbon and Munich. Neuraspace raised €2.5m from Armilar Venture Partners in February 2022 and recently received raised 25 M€ for the acquisition of radars for space surveillance and tracking and for further development of its product.

With the space economy poised to grow from $300 billion to $1 trillion in the coming years, the system developed by Neuraspace is a cornerstone to secure this growth.
You
Our company is seeking to hire radar systems engineer to lead our design, development and procurement efforts for radars for tracking and detection of space objects for space domain awareness. Your duties will primarily revolve around defining requirements, performing design of radar systems and leading and conducting procurements efforts leading to an operational radar system including its hardware and software components.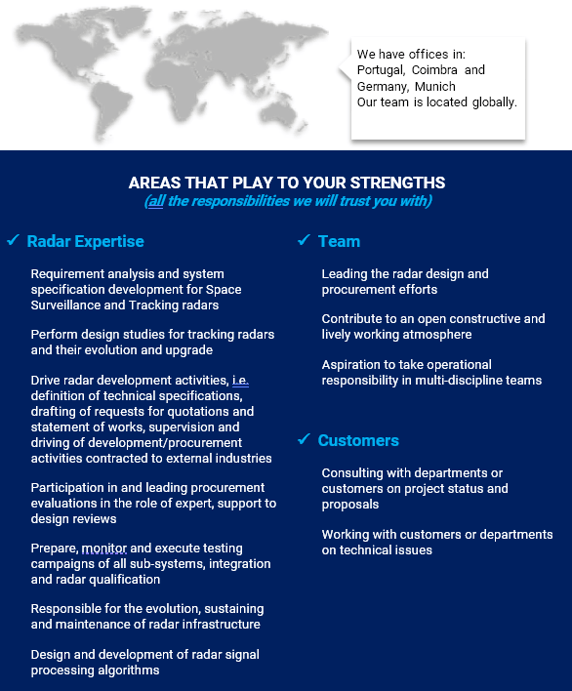 Your experience includes


(proven performance in)
• University degree in electrical engineering or equivalent qualification
• Experience in design and test of radar systems at any frequency and procurement thereof
• Practical experience and/or interest in radar and/or digital signal processing
• Understanding of space situational awareness including space debris matters (observation, modelling, mitigation, risk assessment) and experience working is considered a plus
• A high sense of operational responsibility and good communication skills.
• Independent and structured working method
• Team player
• Proficiency in English, both in speech and writing; knowledge of another European language is an advantage.
Apply now!
You can apply to this job opportunity in LinkedIn.