Chiara Manfletti to speak Live at the 15th European Space Conference, Brussels on 25th Jan 2023

Neuraspace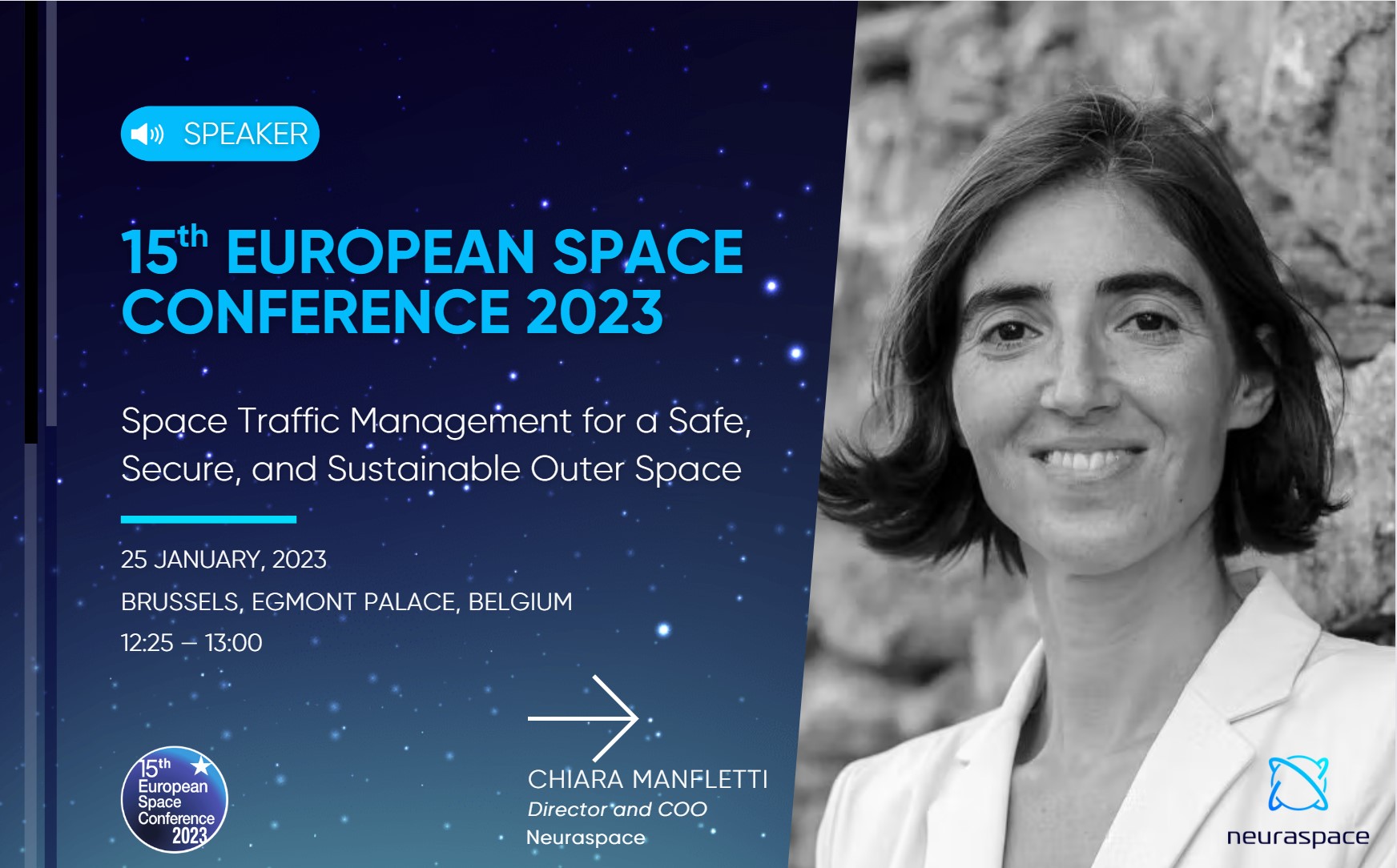 Neuraspace's Director and COO invited as a speaker for the second time at one of the most awaited gatherings in the European space domain, organised by Business Bridge Europe.
Neuraspace, a Portuguese start-up developing an advanced system for monitoring and preventing collisions in space, is always at the forefront of raising awareness on the issues of space debris and collision. With the same mission, Neuraspace's Director and Chief Operating Officer, Chiara Manfletti, is all set to speak at one of the most coveted global events.
The yearly high-level gathering of the key stakeholders of the European space domain will be held in Brussels for two days, including dynamic and thought-provoking debates and exchanges focusing on the theme "Securing the Future of Europe in Space".
Chiara will be speaking on the theme, "Space Traffic Management for a Safe, Secure, and Sustainable Outer Space" and will highlight the rising issues in Space Traffic Management, the need for a cohesive collaborative effort between all space players to make space sustainability a reality, and the role industry can and is playing in this context.
During her session, she will shed insights into Neuraspace's unique data fusion and AI approach that is set to make a potential difference in the Space Traffic Management domain.
Quote from Chiara Manfletti: "The space community looks forward to the European Space Conference every year. I very much enjoy the exchanges and opportunities the conference offers by connecting with high representatives of EU Institutions, the European Space Agency, Member States and representatives and researchers from industry".
About the speaker
Chiara Manfletti holds several degrees in space engineering and worked for the German Aerospace Center as a research engineer in liquid rocket propulsion. In 2016, she joined the European Space Agency. She was the Programme Advisor to the Director General at the agency's headquarters in Paris and is the former President of the Portuguese national space agency, Portugal Space. Since last year, she has been nominated Director and COO at Neuraspace. She is developing automated techniques to detect the numerous space debris and thus maximise the safety of space missions.
About the 15th European Space Conference
Like the previous annual editions of this cycle of conferences dedicated to the European Space Policy and its technological and industrial challenges, this upcoming gathering will bring together, on site and online, high-level decision makers from across the EU institutions and Member States, the European Space Agency, high-level representatives of the industry, civil society and researchers. Two days of information sharing and rich debates throughout the various sessions, while leaving room for informal meetings and high-level networking. More info here: https://spaceconference.eu/